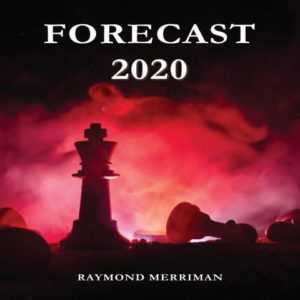 Although 2020 is not yet over, several forecasts made in the 2020 book have already unfolded. We will list a few of the forecasts below as of September 21, 2020 and the list will be updated Events and Articles. Keep in mind these forecasts were written in October-November 2019, and published December 1, 2019, well before 2020 got underway.
ECONOMIC AND MARKET FORECASTS FOR 2020 (made prior to December 1, 2019)
The U.S. Stock Market and DJIA: "… the crest of this first 15.5-month cycle tops out before April, then declines into a low before October, then has another rally that tests or makes a new all-tike high in the second phase. As far as an upside target, two others at 29,663 +/- 938 and 33,293 +/- 2115 are developing. Additionally, with Jupiter in Capricorn, along with Saturn and Pluto, the path to higher highs is likely to be difficult than experienced in 2019 when Jupiter was in Sagittarius… The Jupiter/Saturn conjunction of December 21, 2020 argues for the high to be within five months of December 2020." The all-time in the DJIA occurred on February 12, 2020 at 29,568. It then dropped 38% into its low as of this writing on March 23. U.S. stocks then embarked upon another major rally, and as of this writing, the NASDAQ and S&P have made new all-time highs the first week of September, in an MMA 3—star critical reversal date time band.
Continue reading… Forecast 2020 Scorecard- As of September 21, 2020
REVIEW AND PREVIEW
Silver prices just made their biggest weekly advance since the 2008 collapse of Lehman Brothers, but the run-up has been largely eclipsed by smaller gains in gold prices. The less-valuable metal climbed 20 percent over the past week to $23 an ounce, an increase of more than 94 percent from its bottom below $12 in March. – Jonathan Garber, "Silver Prices Poised to Outshine Gold," www.foxbusiness.com, July 24, 2020.
So the default is to proceed on the notion that the way to hold the White House and Senate this fall is to join Democrats in a spendathon. In fact, conservative voters are increasingly unhappy about the lasting damage Washington's aid bills are doing to both the balance sheet and the underpinnings of the private economy…The mystery is who in the White House keeps deputizing Mr. Mnuchin as lead congressional envoy, given Mrs. Pelosi's flawless record of schooling him in the art of the deal. Kimberly A. Strassel, "The Mnuchin Follies," Wall Street Journal, July 24, 2020.
REVIEW AND PREVIEW
The U.S. reported 77,200 coronavirus cases on Thursday, a record, according to Johns Hopkins University. That spike brought the total number of confirmed U.S. infections to more than 3.57 million. Covid-related deaths are up to more than 138,000. "There's definitely a sense of nervousness in the market," said one trader. – Fred Imbert, www.cnbc.com, July 17, 2020.
The bigger economic danger by far posed by the pandemic debt is that it will remain precisely that – debt. The U.S. thus finds itself stuck in a debt trap, alongside the rest of the world. Economists at the Bank for International Settlements coined that term to describe a situation in which prolonged low interest rates induce the accumulation of so much unproductive government and private debt that to raise taxes would risk a catastrophic financial system or fiscal crisis. –Joseph C. Sternberg, "The Covid Fiscal Crisis is About Debt and Taxes," Wall Street Journal, July 16, 2020.
REVIEW AND PREVIEW
In the midst of a record second-quarter rally, (Jeffrey) Gundlach told Yahoo Finance that Wall Street's recent out performance in the face of surging coronavirus infections was actually driven by what he dubs the "Super 6," which consists of Facebook (FB), Amazon (AMZN), Apple (AAPL), Alphabet (GOOGL), Netflix (NFLX), and Microsoft (MSFT). "Without the Super 6, there is no earnings growth in the United States stock market. There isn't any for the past five years. If you take them out, there's nothing," Gundlach added. He estimated that earnings in the stock market were the equivalent to where they were in 2016, when the market was a third lower. "So, the fundamentals are completely out of sync with how the market has been manipulated." – Julia LaRoche, "Why the Dollar and the Tech Rally are 'Real Risks' to Investors," Yahoo Finance, July 6, 2020.
Confidence builds that the country's economy is shaking off the coronavirus pandemic. The optimism has spurred mainland Chinese stocks to multiyear highs, with the Shanghai Composite rising 16.5% over eight straight sessions of gains through Thursday. – Chong Koh Ping, Xie Yu, and Joanne Chiu, "China Cautions Investors About Market Exuberance," Wall Street Journal, July 10, 2020.
REVIEW AND PREVIEW
The U.S. economy created a better-than-expected 4.8 million jobs in June as states gradually eased coronavirus restrictions, allowing more businesses to reopen and rehire idled workers. It marked the second consecutive month of growth in the millions, indicating a continued improvement in the nation's stressed labor market as business activity resumed. The unemployment rate dropped to 11.1 percent, down from 13.3 percent in May. A separate report on Thursday showed that another 1.43 million Americans filed for jobless aid last week, indicating that layoffs are continuing to mount. – Megan Henney, "U.S. Economy Created 4.8M Jobs last Month," https://www.foxbusiness.com/ July 2, 2020.
Unemployment is likely to remain in double digits through year end and the economic downturn will be more severe than previously forecast, according to projections released Thursday by the Congressional Budget Office. The (jobless rate) is likely to remain above the pre-coronavirus pandemic level of about 3.5% through the end of the decade.– Kate Davidson, "CBO Downgrades Economic Forecast," Wall Street Journal, July 3, 2020.
REVIEW AND PREVIEW
Stocks plunged Friday as a rebound in COVID-19 infections began to slow America's reopening from economically wrenching lockdowns meant to curb the pandemic's spread. The U.S., which has the most cases in the world, recorded an all-time high of about 40,000 new ones on Thursday after states and cities began allowing people back in stores, restaurants, and public gathering spots such as beaches. – James Langford, "Stocks Slide as Coronavirus Spike Slows US Reopening," www.foxbusiness.com, June 26, 2020.
Stephen Roach, Yale University senior fellow and former Morgan Stanley Asia chairman, has a warning for U.S. dollar bulls. The prominent economist says that the era of the U.S. buck may be coming to an end and is forecasting a 35% decline soon in the U.S. currency against its major rivals, citing increases in the nation's deficit and dwindling savings. (He) said that the rise of China and the decoupling of the U.S. from its trade partners is setting the stage for a dramatic weakening of the U.S. currency in the next few years that is likely to end the supremacy of the monetary unit as the world's reserve currency.-Mark DeCambre, "The Dollar is Going to Fall Very, Very Sharply, Warns Prominent Yale Economist," www.marketwatch.com, June 23, 2020.
REVIEW AND PREVIEW
Stocks finished Friday lower, after swinging wildly throughout the session due to technical factors. A number of headlines also raised concern about a resurgence in the coronavirus and a slowdown in the economy's recovery… Apple said it's reclosing a total of 11 stores in Florida, Arizona, South Carolina and North Carolina. – Fred Imbert and Yun Li, "S&P Ends Roller-Coaster Session Lower, But Ekes Out Gain for the Week," www.cnbc.com, June 19, 2020.
Heliocentric Mercury was indeed at work early this week. This started June 16 and remains in effect through June 28. This one will be interesting because now Mercury's geocentric position has turned retrograde (June 18-July 12). This could get wacky, or rather more whacky, because helio Mercury in Sagittarius is given to wild price swings and Mercury retrograde is given to… tricks and misdirection. It is a good time be a chiropractor, or at least know a good one.
REVIEW AND PREVIEW
Federal Reserve officials signaled plans to keep interest rates near zero for years. They projected the
economy would contract anywhere between 4% and 10% this year. Mr. Powell played down the positive news from last week's report that the economy unexpectedly added 2.5 million jobs in May. – Nick Timiraos, "Fed Plans to Keep Rates at Low Level for Years," Wall Street Journal, June 11, 2020.
The Fed's dour forecast, and fears over a resurgence in infections, sent stocks plunging on Thursday. The Dow Jones Industrial Average tanked 1,861 points, or 6.9 percent, the fourth-worst one-day point drop on record. – Megan Henney, "Fed Warns Economic Damage from Coronavirus Pandemic Could be
'Quite Persistent.' www.foxbusiness.com, June 12, 2020.
REVIEW AND PREVIEW
The Nasdaq Composite surged to a record high Friday after the U.S. economy unexpectedly added jobs in May as businesses began reopening their doors following lockdowns ordered to slow the spread of COVID-19. The U.S. economy added 2.51 million jobs in May as the unemployment rate fell to 13.3 percent, according to a report released Friday morning by the Labor Department. Wall Street analysts surveyed by Refinitv were expecting the economy to lose 8 million jobs as the unemployment rate spiked to 19.8 percent. – Jonathan Garber, "NASDAQ Soars to Record High After Job Market's Surprise Bonanza," https://www.foxbusiness.com/, June 5, 2020.
"There is only one sin, only one. And that is theft. Every other sin is a variation of theft. When you kill a man, you steal a life… you steal his wife's right to a husband, rob his children of a father. When you tell a lie, you steal someone's right to the truth. When you cheat, you steal the right to fairness… there is no act more wretched than stealing." ¬Khaled Hosseni, "The Kite Runner," Riverhead Books, 2003.
REVIEW AND PREVIEW
Argentina missed interest payments to international creditors on Friday, thrusting the economically besieged country back into default territory. – Natalie Alcoba, "Argentina Defaults Again as Debt Talks Progress," www.Aljazeera.com, May 22, 2020.
The US dollar edged higher on Wednesday and China's yuan hit a near nine-month low as worries about the US response to China's proposed security law for Hong Kong injected a more cautious tone into foreign exchange markets. The US currency had fallen sharply on Tuesday as strong risk appetite encouraged investors into riskier currencies… – www.reuters.com, "Yuan Hits 9-Month Low as US-China Tensions Return," May 27, 2020.
"It's like déjà vu all over again." – Yogi Berra