REVIEW AND SHORT-TERM GEOCOSMICS
"As businesses begin to open, you're going to see the demand side of the economy rebound," Mr. Mnuchin said. That resembles the forecast issued by the Congressional Budget Office, which expects a sharp contraction in this quarter and then growth at an annual rate of 17% in the second half of this year. The rebound depends on many unknowns… _Richard Rubin and Sarah Graney, "Mnuchin Expresses Confidence in Rebound," Wall Street Journal, April 27, 2020.
Mr. Powell and Treasury Secretary Steven Mnuchin may underestimate how much this shutdown is hollowing out the heart of the U.S. economy. "The Fed's Main Street Mistake," Wall Street Journal, "Review and Outlook," April 10, 2020.
REVIEW AND SHORT-TERM GEOCOSMICS
Employers are already having a hard time rehiring some employees who are now making much more in jobless benefits. Beyond the damage to life and livelihood, the greatest threat from the coronavirus are policy mistakes that prolong the economic pain. Democrats want to use the pandemic as an excuse to put government in charge of much more of the private economy. Now Mr. Trump wants to limit America's supply of human talent. If they succeed, we will wake up in 2021 having defeated Covid-19 but at the high cost of a diminished economic future. – "Trump's Immigration Distraction," Wall Street Journal editors, April 22, 2020.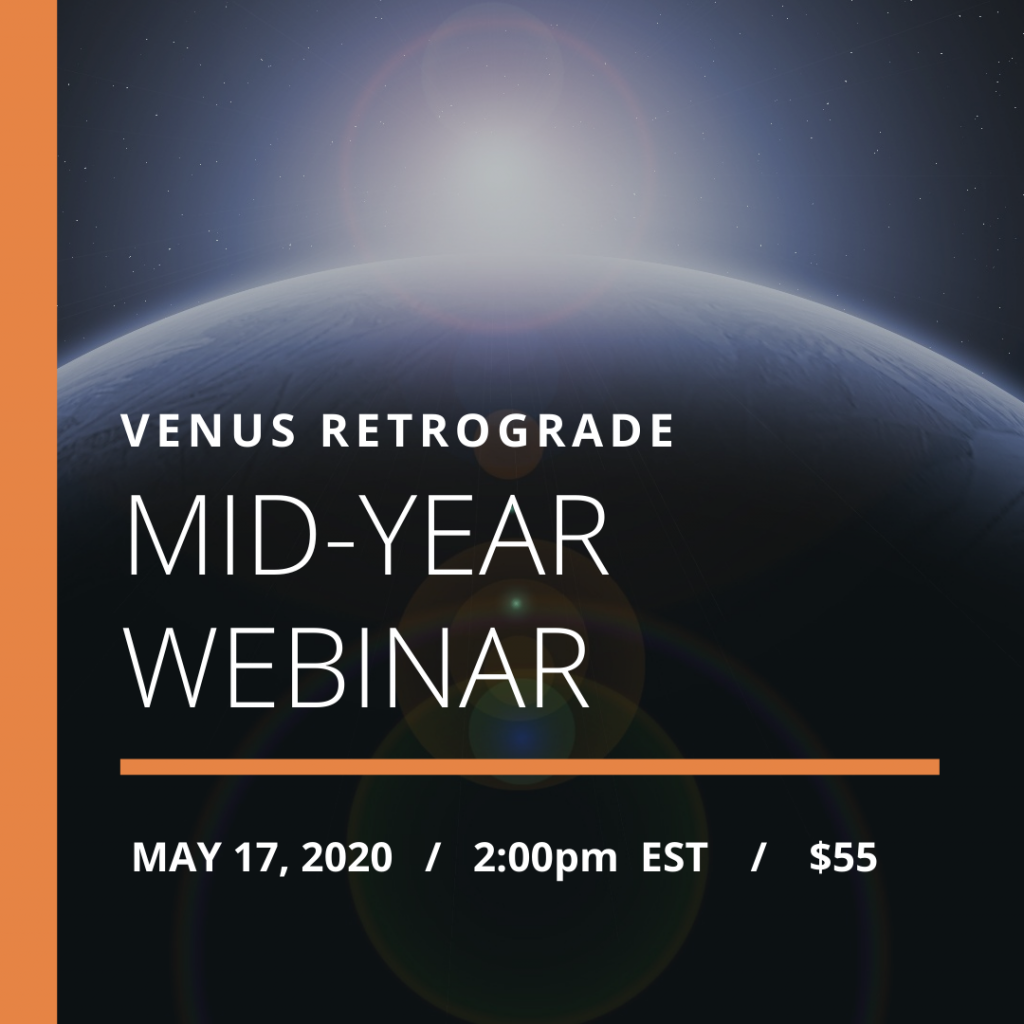 The MMA special webinar on Financial Markets is less than one month away!
Where are we now in the long-term cycles of financial markets? This special webinar will take place on Sunday May 17, 2020 at 2 PM EST. This broadcast will address updates on the U.S. stock market, and Gold and Silver by Raymond Merriman, Crude Oil with Gianni Di Poce, and the Euro currency with Ulric Aspegren. Cost is $55.00, and includes the slides of the presentation, plus a video recording of the event. Sign up NOW!
The timing of this presentation is chosen to coincide with our May 15-18 three-star CRD, which involves Venus, Jupiter, and Saturn turning retrograde, which we have marked as one of the most important turning points of the year 2020. If unable to attend live, you can still sign up and receive the video recording and presentation slides on the day following the live event. If you plan to attend, and want certain questions or areas to be discussed, please send us an email before Tuesday, May 12.
REVIEW AND SHORT-TERM GEOCOSMICS
Stocks surged on Friday after a report said a Gilead Sciences drug showed some effectiveness in treating the coronavirus, giving investors some hope there could be a treatment solution that helps the country reopen faster from the widespread shutdowns that have plunged the economy into a recession. – "Dow Jumps 700 Points on Hope for a Coronavirus Treatment, Closes at Highest Level Since March," Fred Imbert, www.cnbc.com, April 17, 2020.
While widespread testing may help, it won't eradicate the virus. They also know even another month of lock down, much less the year needed for a vaccine, would mean severe stress for the economy. Reopening must go forward, and that will by necessity mean more outbreaks, more cases, more deaths. That was always going to happen in a pandemic. Kimberley A. Strassel, "Moving the Shutdown Goal Posts," The Wall Street Journal, April 17, 2020
REVIEW AND SHORT-TERM GEOCOSMICS
One of the nation's top economists, (former Fed Chair Janet) Yellen predicted a 30 percent contraction of GDP this year but has seen models as high as 50 percent. – Megan Henney, "Coronavirus Unemployment Could Hit Post-Depression Record, Economists Say," https://www.foxnews.com/, April 10, 2020.
Mr. (Jerome) Powell and Treasury Secretary Steven Mnuchin may underestimate how much this shutdown is hollowing out the heart of the U.S. economy. – Review and Outlook, "The Fed's 'Main Street' Mistake," Wall Street Journal, April 10, 2020.
REVIEW AND SHORT-TERM GEOCOSMICS
The U.S. economy lost 701,000 jobs in March, snapping a decade-long record of employment growth, as strict measures to contain the coronavirus pandemic shuttered businesses and forced Americans to stay at home. It was the first decline in payrolls since September 2010, and the steepest since March 2009, in the midst of the Great Recession. The unemployment rate jumped to 4.4 percent, up from a half-century low of 3.5 percent in February. – Megan Henney, "US Employers Shed 701,000 Jobs in March, Unemployment Jumps to 4.4%," www.foxbusiness.com, April 3, 2020.
Two weeks ago, many world equity markets suffered their greatest one-week loss ever, including the Dow Jones Industrial Average. Many completed multi-year lows between March 19-March 23, and then began record-breaking rallies that lasted 3-5 days one week ago. Last week saw corrections to those rallies. But in several cases, these corrections exhibited a case of intermarket bearish divergence where one market took out the highs of the prior week, but a related market in the same part of the world did not. Most of those then pulled back from that secondary high into the end of last week.
REVIEW AND SHORT-TERM GEOCOSMICS
"So, I think the public health is the most important one," he (Ben Bernanke) added. "If we can get that straight, then we know how to get the economy working again. Monetary and fiscal policy can do their thing and we won't have anything like the extended downturn we saw even, I don't think, in the Great Recession, much less the Great Depression of the '30s." – Jeff Cox, "Former Fed Chairman Ben Bernanke Sees 'Very Sharp' Recession, Followed by 'Fairly Quick' Rebound," www.cnbc.com, March 25, 2020.
"We may well be in a recession. But I would point to the difference between this and a normal recession. There is nothing fundamentally wrong with our economy. Quite the contrary. We are starting from a very strong position… When it comes to lending, we are not going to run out of ammunition. That just doesn't happen." Fed Chairman Jerome Powell, in interview with Savannah Guthrie on NBC's "Today Show," March 26, 2020.
REVIEW AND SHORT-TERM GEOCOSMICS
Federal and state officials need to start adjusting their anti-virus strategy now to avoid an economic recession that will dwarf the harm from 2008-2009.Treasury Secretary Mnuchin's assertion on Fox Business Thursday that the economy will power through this is happy talk if it continues much longer… no society can safeguard public health for long at the cost of its overall economic health. America urgently needs a pandemic strategy that is more economically and socially sustainable than the current national lockdown. – "Rethinking the Virus Shutdown," Opinion Page, Wall Street Journal, March 20, 2020.
REVIEW
"What you are getting is a stimulus at the very wrong moment. The economy is already at full employment. (The stimulus) is going to hit the economy in a big way this year and next year, and then in 2020 Wile E. Coyote is going to go off the cliff." -Ben Bernanke, from a policy discussion at the American Enterprise Institute, reported in Bloomberg News on June 7, 2018, by Craig Torres of Bloomberg News.
The U.S. and world economies look increasingly likely to fall into a recession as the coronavirus pandemic causes swaths of major shutdowns across the globe and sent financial markets tumbling. – Megan Henney, "As Coronavirus Spreads, Recession Increasingly Likely, Economists Warn," www.foxbusiness.com, March 13, 2020.
REVIEW
It is possible the employment reports will be stronger than the 175K expected, as Jupiter will be on the MC at the time of the announcement. – MMA Daily Cycles Report for subscribers. Thursday night, March 5, 2020. www.mmacycles.com for information on these reports..
Nonfarm payrolls rose by 273,000 in February vs. a 175,000 estimate, while the unemployment rate edged lower to 3.5%. Job gains were widespread, with health care adding 57,000 to lead the way. December and January's estimates were revised upward by a total of 243,000. – Jeff Cox, "Job Growth Smashes Expectations for February," www.cnbc.com, March 6, 2020.