REVIEW AND SHORT-TERM GEOCOSMICS
The U.S. economy lost 701,000 jobs in March, snapping a decade-long record of employment growth, as strict measures to contain the coronavirus pandemic shuttered businesses and forced Americans to stay at home. It was the first decline in payrolls since September 2010, and the steepest since March 2009, in the midst of the Great Recession. The unemployment rate jumped to 4.4 percent, up from a half-century low of 3.5 percent in February. – Megan Henney, "US Employers Shed 701,000 Jobs in March, Unemployment Jumps to 4.4%," www.foxbusiness.com, April 3, 2020.
Two weeks ago, many world equity markets suffered their greatest one-week loss ever, including the Dow Jones Industrial Average. Many completed multi-year lows between March 19-March 23, and then began record-breaking rallies that lasted 3-5 days one week ago. Last week saw corrections to those rallies. But in several cases, these corrections exhibited a case of intermarket bearish divergence where one market took out the highs of the prior week, but a related market in the same part of the world did not. Most of those then pulled back from that secondary high into the end of last week.
REVIEW AND SHORT-TERM GEOCOSMICS
"So, I think the public health is the most important one," he (Ben Bernanke) added. "If we can get that straight, then we know how to get the economy working again. Monetary and fiscal policy can do their thing and we won't have anything like the extended downturn we saw even, I don't think, in the Great Recession, much less the Great Depression of the '30s." – Jeff Cox, "Former Fed Chairman Ben Bernanke Sees 'Very Sharp' Recession, Followed by 'Fairly Quick' Rebound," www.cnbc.com, March 25, 2020.
"We may well be in a recession. But I would point to the difference between this and a normal recession. There is nothing fundamentally wrong with our economy. Quite the contrary. We are starting from a very strong position… When it comes to lending, we are not going to run out of ammunition. That just doesn't happen." Fed Chairman Jerome Powell, in interview with Savannah Guthrie on NBC's "Today Show," March 26, 2020.
REVIEW AND SHORT-TERM GEOCOSMICS
Federal and state officials need to start adjusting their anti-virus strategy now to avoid an economic recession that will dwarf the harm from 2008-2009.Treasury Secretary Mnuchin's assertion on Fox Business Thursday that the economy will power through this is happy talk if it continues much longer… no society can safeguard public health for long at the cost of its overall economic health. America urgently needs a pandemic strategy that is more economically and socially sustainable than the current national lockdown. – "Rethinking the Virus Shutdown," Opinion Page, Wall Street Journal, March 20, 2020.
REVIEW
"What you are getting is a stimulus at the very wrong moment. The economy is already at full employment. (The stimulus) is going to hit the economy in a big way this year and next year, and then in 2020 Wile E. Coyote is going to go off the cliff." -Ben Bernanke, from a policy discussion at the American Enterprise Institute, reported in Bloomberg News on June 7, 2018, by Craig Torres of Bloomberg News.
The U.S. and world economies look increasingly likely to fall into a recession as the coronavirus pandemic causes swaths of major shutdowns across the globe and sent financial markets tumbling. – Megan Henney, "As Coronavirus Spreads, Recession Increasingly Likely, Economists Warn," www.foxbusiness.com, March 13, 2020.
REVIEW
It is possible the employment reports will be stronger than the 175K expected, as Jupiter will be on the MC at the time of the announcement. – MMA Daily Cycles Report for subscribers. Thursday night, March 5, 2020. www.mmacycles.com for information on these reports..
Nonfarm payrolls rose by 273,000 in February vs. a 175,000 estimate, while the unemployment rate edged lower to 3.5%. Job gains were widespread, with health care adding 57,000 to lead the way. December and January's estimates were revised upward by a total of 243,000. – Jeff Cox, "Job Growth Smashes Expectations for February," www.cnbc.com, March 6, 2020.
REVIEW
The 10-year U.S. Treasury yield plunged to a fresh record low on Friday as investors dumped riskier assets and searched for safer options amid the coronavirus outbreak. The outbreak sent investors fleeing equities in favor of Treasuries, which have traditionally been a safer alternative to stocks. The Dow Jones Industrial Average and S&P 500 were headed for their biggest one-week losses since the financial crisis. Yields tumbled as the Fed signaled late Friday it might be willing to support the economy if necessary. – Yun Li and Fred Imbert, "10-Year Treasury Yield Collapses to Another Record Low Below 1.12%," www.cnbc.com, February 28, 2020.
Here's a thought: Maybe we in the media should spend more time talking to the experts who know something and less time quoting politicians who know almost nothing about the virus but see potential gain in exploiting a health crisis. Opinion Page, "The Coronavirus Isn't Partisan," Wall Street Journal, February 28, 2020.
Where do you even start this weekly column after a week like this?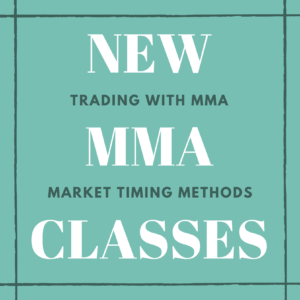 Trading with MMA Market Timing Methods: Recordings now available
Raymond Merriman will be hosting a three-part course on how to use the MMA Market Timing Methods and subscription reports starting in March. Trading with MMA Market Timing Methods is a three-part course over four weeks. Each two-hour class is designed for traders who want to learn more about trading futures as well as ETFs. The class size is limited to 30 students. All classes will be live and will be recorded so that the video recordings are available to the students for review. Read our interview with Raymond below to learn more about the class and how to sign up now!
Dates: March 11, March 25, April 1
Time: 7-9 pm EST
Instructor: Raymond Merriman
Platform: Hosted via Zoom
Cost: $295
Continue reading… Trading with MMA Market Timing Methods: Recordings now available!
REVIEW
U.S. equity markets closed out the week on a down note as the coronavirus' spread outside of China accelerated and investors took a cautious stance heading into the weekend. The latest figures out of China showed the number of new cases continued to slow. The National Health Commission said there were 889 new coronavirus cases and 118 deaths in the country in the 24 hours through Thursday, raising the totals to 75,465 and 2,236, respectively. "Stocks Slide, Posting Weekly Losses," Jonathan Garber, www.foxbusiness.com, February 21, 2020.
The coronavirus outbreak ruined for investors what was a solid earnings reporting season and is casting a pall on forecasts for this quarter and the rest of this year. And now with most of the earnings season in the books, look for the latest coronavirus headlines to fill the vacuum and weigh on stocks the rest of the month.– Yun Li, "Coronavirus Fears Spoiled a Solid Earnings Season," www.cnbc.com, February 21, 2020.
REVIEW
The federal budget deficit grew 25% in the first four months of the fiscal year… Over the 12 months that ended in January, receipts rose 6.7%, the most since February 2016. Outlays were up 8.8%, pushing the overall deficit to 1.06 trillion, a 16.4% increase from a year earlier. Kate Davidson, "Deficit Widens as Spending Hits High," Wall Street Journal, February 13, 2020.
(Judy Shelton's) vigorous public defense of monetary stability as a solution to the (lack of) productivity (puzzle challenges defenders of today's orthodoxy to explain how their model is any better than a fixed standard such as the gold she advocates. They can't do it in light of the serial disasters of the past 50 years. No wonder her nomination (to the Fed) elicited such shameful vitriol from the economics professorial and their friends in the press. Their beef with Ms. Shelton isn't that she's a not. It's that she might be right. – Joseph C. Sternberg, "Why the Economics Establishment Hates Judy Shelton," Wall Street Journal, February 14, 2020.