Note: U.S. markets will be closed Monday in observance of the Memorial Day Holiday.
REVIEW AND PREVIEW:
Heavy hearts soared Monday (May 18) with news that Moderna's Covid-19 vaccine candidate — the front runner in the American market — seemed to be generating an immune response in Phase 1 trial subjects. The company's stock valuation also surged, hitting $29 billion, an astonishing feat for a company that currently sells zero products. But was there good reason for so much enthusiasm? While Moderna blitzed the media, it revealed very little information — and most of what it did disclose were words, not data. – Helen Branswell, "Vaccine Experts Say Moderna Didn't Produce Data Critical to Assessing Covid-19 Vaccine," www.statnews.com, May 19, 2020.
Uncertainty. Mixed signals. That's the nature of Venus retrograde in a square aspect to Neptune last week. It's going to continue for a while, as this aspect unfolds in a 3-passages series through the end of July. Nothing is real; nothing is clear. So just sit back and try to relax without putting unnecessary stress on your self or those around you. You can't make a detailed plan, so learn to be present in the moment.
Due to preparation for this weekend's Mid-year financial markets webinar (Sunday, May 17), there is no MMA Weekly Column. We look forward to seeing many of you on Sunday. If you plan to attend please sign up no later than Friday, for the office is closed on Saturday. On Sunday, we anticipate that our office will  be extremely busy helping clients, who have pre-registered, log into the live webinar.  We will not be able to guarantee our availability to help clients sign up and register for the Webinar after Friday.
This column will return next weekend, for the week starting May 25. Enjoy your week ahead!
REVIEW AND SHORT-TERM GEOCOSMICS
The Labor Department reported Friday the coronavirus wiped 20.5 million workers from nonfarm payrolls and sending the unemployment rate skyrocketing to 14.7% last month. April's unemployment rate topped the post-war record 10.8% but was short of the Great Depression high estimated at 24.9%. The financial crisis peak was 10% in October 2009. Still, the figures came in better than Wall Street's expectations. Economists surveyed by Dow Jones had been expecting payrolls to shed 21.5 million and the unemployment rate to go to 16%. – Yun Li and Katrina Bishop,"2-Year Treasury Yield Hits New Record low of .0105%," www.cnbc.com, May 8, 2020.
World equity markets are doing exactly what they usually do going into the Venus retrograde period of May 13: they are rallying. This, of course, is the opposite of what most people think the stock market should be doing based on the dismal state of world economies, as exemplified by last week's job losses that were the worst since the Great Depression in the U.S.
REVIEW AND SHORT-TERM GEOCOSMICS
"As businesses begin to open, you're going to see the demand side of the economy rebound," Mr. Mnuchin said. That resembles the forecast issued by the Congressional Budget Office, which expects a sharp contraction in this quarter and then growth at an annual rate of 17% in the second half of this year. The rebound depends on many unknowns… _Richard Rubin and Sarah Graney, "Mnuchin Expresses Confidence in Rebound," Wall Street Journal, April 27, 2020.
Mr. Powell and Treasury Secretary Steven Mnuchin may underestimate how much this shutdown is hollowing out the heart of the U.S. economy. "The Fed's Main Street Mistake," Wall Street Journal, "Review and Outlook," April 10, 2020.
REVIEW AND SHORT-TERM GEOCOSMICS
Employers are already having a hard time rehiring some employees who are now making much more in jobless benefits. Beyond the damage to life and livelihood, the greatest threat from the coronavirus are policy mistakes that prolong the economic pain. Democrats want to use the pandemic as an excuse to put government in charge of much more of the private economy. Now Mr. Trump wants to limit America's supply of human talent. If they succeed, we will wake up in 2021 having defeated Covid-19 but at the high cost of a diminished economic future. – "Trump's Immigration Distraction," Wall Street Journal editors, April 22, 2020.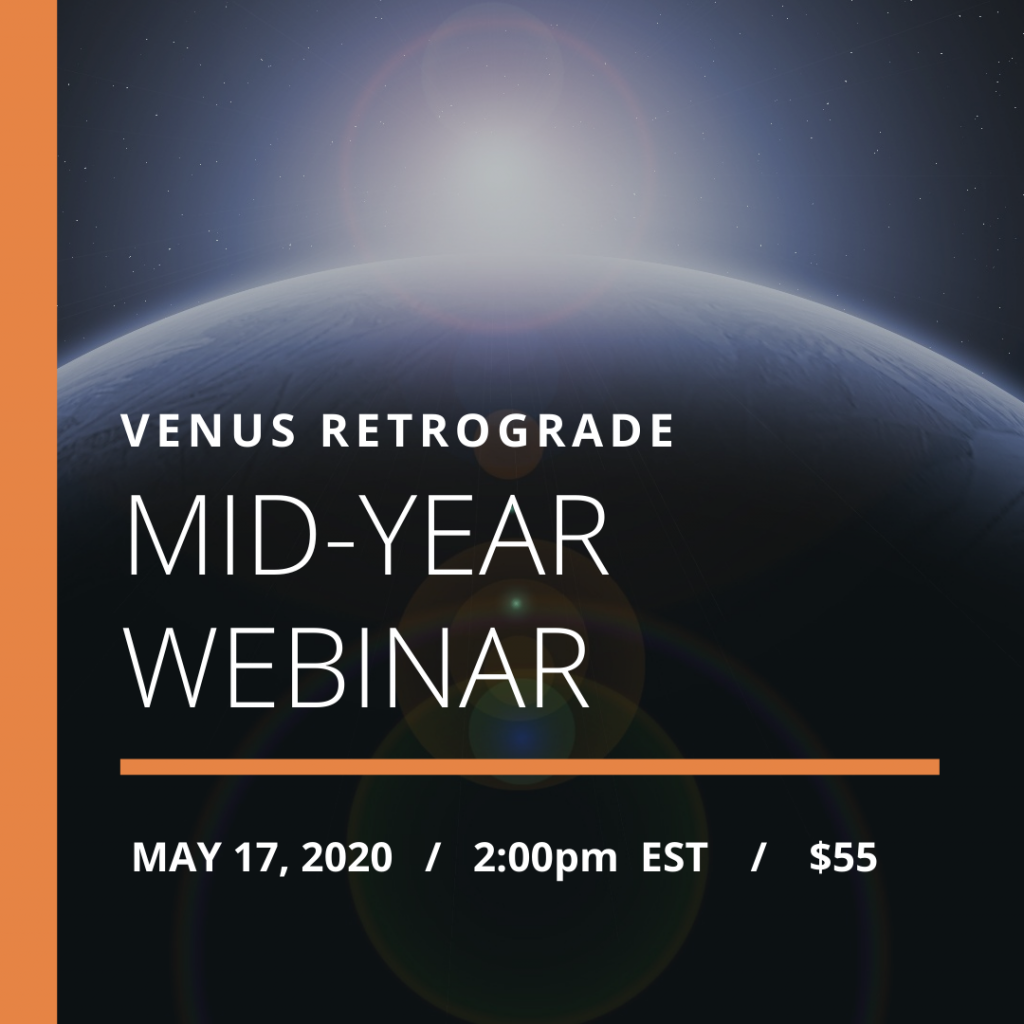 The MMA special webinar on Financial Markets is less than one month away!
Where are we now in the long-term cycles of financial markets? This special webinar will take place on Sunday May 17, 2020 at 2 PM EST. This broadcast will address updates on the U.S. stock market, and Gold and Silver by Raymond Merriman, Crude Oil with Gianni Di Poce, and the Euro currency with Ulric Aspegren. Cost is $55.00, and includes the slides of the presentation, plus a video recording of the event. Sign up NOW!
The timing of this presentation is chosen to coincide with our May 15-18 three-star CRD, which involves Venus, Jupiter, and Saturn turning retrograde, which we have marked as one of the most important turning points of the year 2020. If unable to attend live, you can still sign up and receive the video recording and presentation slides on the day following the live event. If you plan to attend, and want certain questions or areas to be discussed, please send us an email before Tuesday, May 12.
REVIEW AND SHORT-TERM GEOCOSMICS
Stocks surged on Friday after a report said a Gilead Sciences drug showed some effectiveness in treating the coronavirus, giving investors some hope there could be a treatment solution that helps the country reopen faster from the widespread shutdowns that have plunged the economy into a recession. – "Dow Jumps 700 Points on Hope for a Coronavirus Treatment, Closes at Highest Level Since March," Fred Imbert, www.cnbc.com, April 17, 2020.
While widespread testing may help, it won't eradicate the virus. They also know even another month of lock down, much less the year needed for a vaccine, would mean severe stress for the economy. Reopening must go forward, and that will by necessity mean more outbreaks, more cases, more deaths. That was always going to happen in a pandemic. Kimberley A. Strassel, "Moving the Shutdown Goal Posts," The Wall Street Journal, April 17, 2020
REVIEW AND SHORT-TERM GEOCOSMICS
One of the nation's top economists, (former Fed Chair Janet) Yellen predicted a 30 percent contraction of GDP this year but has seen models as high as 50 percent. – Megan Henney, "Coronavirus Unemployment Could Hit Post-Depression Record, Economists Say," https://www.foxnews.com/, April 10, 2020.
Mr. (Jerome) Powell and Treasury Secretary Steven Mnuchin may underestimate how much this shutdown is hollowing out the heart of the U.S. economy. – Review and Outlook, "The Fed's 'Main Street' Mistake," Wall Street Journal, April 10, 2020.
REVIEW AND SHORT-TERM GEOCOSMICS
The U.S. economy lost 701,000 jobs in March, snapping a decade-long record of employment growth, as strict measures to contain the coronavirus pandemic shuttered businesses and forced Americans to stay at home. It was the first decline in payrolls since September 2010, and the steepest since March 2009, in the midst of the Great Recession. The unemployment rate jumped to 4.4 percent, up from a half-century low of 3.5 percent in February. – Megan Henney, "US Employers Shed 701,000 Jobs in March, Unemployment Jumps to 4.4%," www.foxbusiness.com, April 3, 2020.
Two weeks ago, many world equity markets suffered their greatest one-week loss ever, including the Dow Jones Industrial Average. Many completed multi-year lows between March 19-March 23, and then began record-breaking rallies that lasted 3-5 days one week ago. Last week saw corrections to those rallies. But in several cases, these corrections exhibited a case of intermarket bearish divergence where one market took out the highs of the prior week, but a related market in the same part of the world did not. Most of those then pulled back from that secondary high into the end of last week.
REVIEW AND SHORT-TERM GEOCOSMICS
"So, I think the public health is the most important one," he (Ben Bernanke) added. "If we can get that straight, then we know how to get the economy working again. Monetary and fiscal policy can do their thing and we won't have anything like the extended downturn we saw even, I don't think, in the Great Recession, much less the Great Depression of the '30s." – Jeff Cox, "Former Fed Chairman Ben Bernanke Sees 'Very Sharp' Recession, Followed by 'Fairly Quick' Rebound," www.cnbc.com, March 25, 2020.
"We may well be in a recession. But I would point to the difference between this and a normal recession. There is nothing fundamentally wrong with our economy. Quite the contrary. We are starting from a very strong position… When it comes to lending, we are not going to run out of ammunition. That just doesn't happen." Fed Chairman Jerome Powell, in interview with Savannah Guthrie on NBC's "Today Show," March 26, 2020.