We have put together a list of common questions about our upcoming Retreat, September 8-11, 2022 in Troy, MI.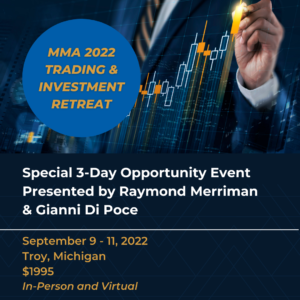 I can't travel to Michigan. Is there a virtual option?
Yes. You can attend in-person or virtually via Zoom. Following the event, all participants (in-person and virtual) will receive unlimited access to the recordings of the live 18 presentations. The set up for this event is the same way we organize our Webinars. The Monday following the live event (September 12th) all participants will have access to class recordings through the MMA portal to re-watch the presentations. 
Can I just buy the Retreat Class Recordings?
Yes. That would be the virtual option. With this option, we will send you a Zoom link to watch the classes live, and we will also provide you the class recordings the Monday following the event. The recordings can be viewed an unlimited number of times and will be available indefinitely on your MMA account through the MMA Portal.
If I attend In-Person, when should I arrive and depart?
Thursday September 8, 2022. Our first activity will be a meet and greet cocktail party at the Embassy Suites Hotel in Troy, MI.  You would want to arrive in Detroit airport by 3 PM Thursday, September 8.
The last classes will be on Sunday September 11, 2022 and will end around 3:00 PM. 
Where should I stay?
We recommend staying at the Embassy Suites Hotel in Troy, Michigan which is nearby to the Michigan State University Management Educational Center (MEC) where the classes will take place. 
Everyone is responsible for their own lodging expenses. 
How will I get there from the airport? How far is it?
The Embassy Suites Hotel in Troy, MI is 38.6 miles from the Detroit airport (DTW)  with an estimated drive time of 40-45  minutes.
You will need to arrange transportation from DTW to Embassy Suite and return. Rideshare, such as Uber or Lyft are available at the airport. Rental cars are also available at the airport. 
How will I get from the Embassy Suites Hotel to classes at MEC?
The drive trip between the hotel and conference center is less than 5 minutes. Embassy Suites is the closest hotel to the MEC and we have arranged a shuttle service to MEC.
What about meals?
Breakfast is free for guests staying at the Embassy Suites Hotel. We will be providing lunch at the MEC Friday, Saturday, and Sunday. For Friday and Sunday evenings, everyone is on their own for dinner and of course, groups will connect and go out together at restaurants in the area, which are many. We will host a dinner on Saturday evening for all participants.
What will happen at MEC?
Please see the MMA Trading and Investment Retreat Schedule. There are three main parts: Trading, Investment, and Knowing Your Own Chart for Personal Trading and Investment cycles
What if I need help in arranging my travel plans?
Our staff will offer support as much as possible, but our travel agent highly recommends that you DO NOT use a travel agent or "consolidation travel service" such as Expedia, Kayak, or Orbitz, except to perhaps find a specific time and price from a major airlines company that agrees with your schedule and budget. We recommend that you book directly with the major airline companies. Airline companies often change their flight schedules and have to reschedule you, and if you booked through a consolidator it can be difficult to navigate through these changes. You are much better off if you deal directly with the major airline company you are traveling with.
Why should I consider being attending the live event in-person?
This is a unique opportunity to bond with fellow traders, investors, and students of MMA Market Timing Methodology. The participants will include MMTA students who have studied with one another over the past two years, past graduates of MMTA1, as well as subscribers to MMA Cycles Reports. The bonds that form from this live, in-person event, can be invaluable in your future.
The thing about live meetings is that you never know what will result from discussions outside the classroom. Life can change in subtle but remarkable ways through relationships that are established at rare events like these, with people who have undertaken a similar journey in life as you
Next steps?
Let us know if you can make it and how we can be of help! Sign up HERE for the Retreat. Review the Schedule. Send us an email if you have any question, CustomerService@mmacycles.com.