Events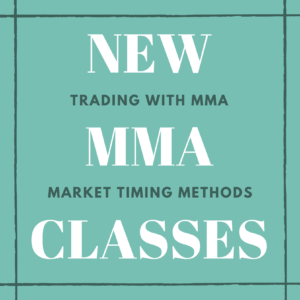 Trading with MMA Market Timing Methods
Raymond Merriman will be hosting a three-part course on how to use the MMA Market Timing Methods and subscription reports starting in March. Trading with MMA Market Timing Methods is a three-part course over four weeks. Each two-hour class is designed for traders who want to learn more about trading futures as well as ETFs. The class size is limited to 30 students. All classes will be live and will be recorded so that the video recordings are available to the students for review. Read our interview with Raymond below to learn more about the class and how to sign up now!
Dates: March 11, March 25, April 1
Time: 7-9 pm EST
Instructor: Raymond Merriman
Platform: Hosted via Zoom
Cost: $295
Forecast 2020 Webinar: Recording
The MMA Forecast 2020 Webinar took place on Sunday February 9, 2020.  This once-a-year broadcast addressed subjects covered in the Forecast 2020 Book, with updates on financial markets since the book was written in November 2019. Outlooks included the U.S. stock market, Gold and Silver, crude oil, and currencies. With all the concerns involving a potential stock market crash in 2020-2023, this webinar discussed how one may protect their capital and even take advantage of such a bearish possibility (and when to look for it). Sign up for the Forecast 2020 Webinar Recording  HERE.
Continue reading… Forecast 2020 Webinar: Recording Now Available
We are hosting TWO courses in Beijing, China June 8-9, 2019 and June 15-16, 2019. The cost will be $4,000 (or $2,000/ Course). We are offering a 10% discount to current MMA Subscribers. This special 2- weekend workshop will take place at the Beijing Broadcast Tower Hotel, No. 14 Jianjuomenwai Da Jie, Chaoyang, 1000222 Beijing, China.
Please see below for a description of each course.