Articles
We have put together a list of common questions about our upcoming Retreat, September 8-11, 2022 in Troy, MI.
When should I arrive and depart?
Thursday September 8, 2022. Our first activity will be a meet and greet cocktail party at the Embassy Suites Hotel in Troy, MI.  You would want to arrive in Detroit airport by 3 PM Thursday, September 8.
The last classes will be on Sunday September 11, 2022 and will end around 5:30PM. Following class, many of us will go out to dinner together. You would want to depart on Monday, September 12, 2022.
However, if you only want to attend the classes, the first class begins Friday morning at 9:30AM and the last class ends at 5:30PM Sunday afternoon
David Versus Goliath – A New Hero is Born
The natal chart of Wolodymyr Selenskyj
By Antonia Langsdorf
Wolodymyr Selenskyj, currently the most popular man in the world, was born in the sign of Aquarius. His Sun is in a tight conjunction with Venus, a first hint at his enormous popularity. The rising sign for his 2pm birth time is Gemini. It is in conjunction with Jupiter. This constellation explains his talent for tremendous gestures and inspiring speeches, accompanied by an almost careless courage, rising from a feeling of having justice on his side. The fact that Lilith also joins this conjunction, although already in the next sign of Cancer, is indicative of a fearlessness for calling things as they are…
Read the full PDF article HERE.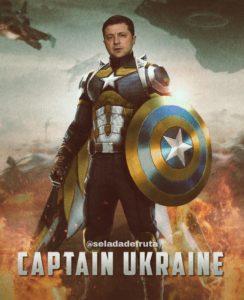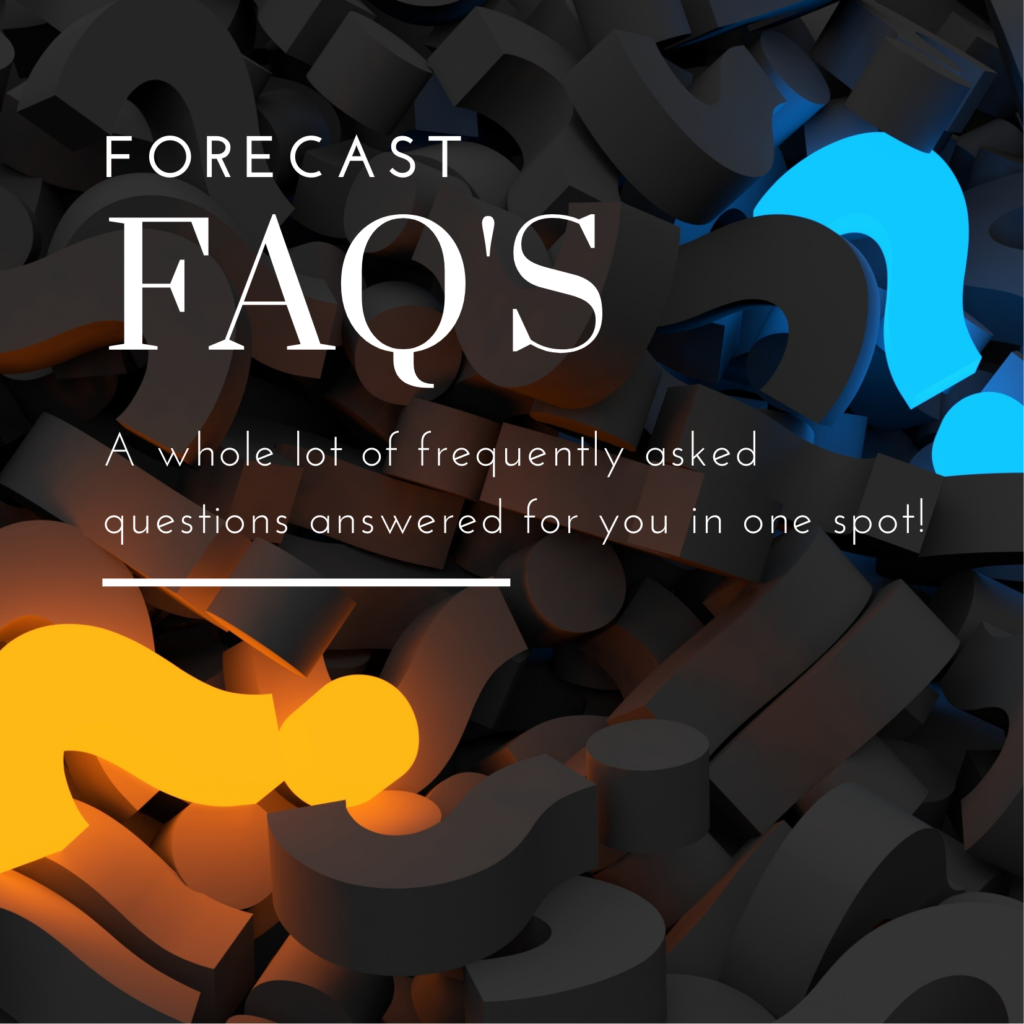 Our Annual Forecast Pre-Order Event ran from August 16- October 31 2021. Our Forecast Books will be mailed out around December 15, 2021. We cannot guarantee domestic or international orders will be received by Christmas or Hanukkah. We created a list below of our most common FAQs to help this Forecast season. We are always available to answer any of your Forecast questions via email at CustomerService@mmacycles.com.
Every August MMA runs our annual Forecast Pre-Order Event. If this is your first Forecast season with us, welcome! If you have been ordering the Forecast Book for years, welcome back and thank you for your continued support. This is our favorite, and most busy, time of year.
Everyone is invited to be part of our special event where you can pre-order the Forecast Book at a discounted price through the end of October AND save 10% on MMA subscription reports. If you have ordered Forecast in the past, then you will be sent a coupon code on August 16th to save an additional $5 on Forecast 2022. If you are an active subscriber, then you will be sent a coupon code on August 16th to save an additional $10 on Forecast 2022. Being a member of the MMA Fan Club (past purchaser of Forecast Book) or a member of the MMA Active Subscriber Club (current subscriber to paid reports) have additional benefits listed below.
To learn more about our annual event, please check out our Annual Forecast Pre-Order Event Page and Forecast FAQ Page which hosts a wealth of information. You may also send us email to CustomerService@mmacycles.com with any questions you have. Visit our Forecast 2022 Page on August 16th to pre-order Forecast 2022.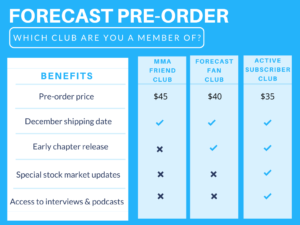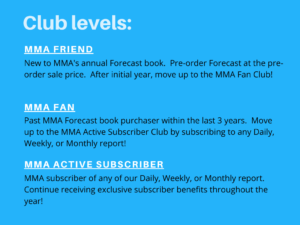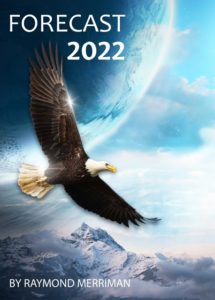 Every year gets better and better with our forecasts. Although 2021 is not yet over, several forecasts made in the 2021 book have already unfolded. We will list a few of the forecasts below as of July 21. Keep in mind these forecasts were written in October-November 2020, and published December 2020, well before 2021 got underway.
ECONOMIC AND MARKET FORECASTS FOR 2021 (made prior to December 1, 2020)The U.S. Stock Market and DJIA: "… There are reasons to support a continuation of the bull market off the lows of March 2020… The next sign of potential trouble for the bull market in the U.S. stock market will happen if and when the DJIA takes out support at 25,000–26,000. Until then, our advice for investors is to stay with bullish strategies. That is, buy corrective declines (even if sharp) into the 50-week and 16.5-month cycle lows due in 2021. But as long as the DJIA does not fall below 25,000–26,000, it is probably a buying opportunity." The DJIA never traded that low. Instead, it continued to rally and as of this writing, it has made a new all-time high 35,631 as of August 16, just four days before the August 20 critical reversal date listed in the book. The S&P and NASDAQ have continued making new all-time highs on September 3 and 7 respective, right on the September 3-6 critical reversal date listed.
Continue reading… Forecast 2021 Scorecard- As of July 21, 2021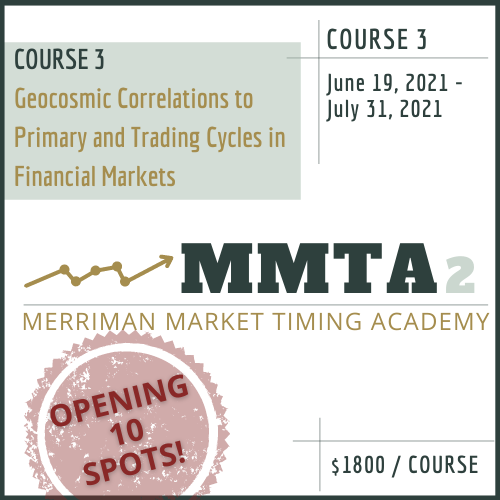 GEOCOSMIC CORRELATIONS TO PRIMARY AND TRADING CYCLES IN FINANCIAL MARKETS
A 7-WEEK INTENSIVE TRAINING COURSE LED BY RAYMOND MERRIMAN AND GIANNI DI POCE
JUNE 18 – JULY 31
This is the most important course on market timing for traders offered by MMA. We begin on June 18, 2021 and have opened 10 spots for this course only.
The MMA methodology of financial market timing utilizes several studies to determine an optimal time band for a major market reversal. But the one tool that provides that "extra edge" that all traders seek is Geocosmic Studies.
Continue reading… MMTA2 Course 3: Geocosmic Correlations to Primary and Trading Cycles in Financial Markets: June 19 – July 31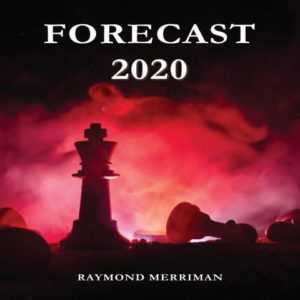 Although 2020 is not yet over, several forecasts made in the 2020 book have already unfolded. We will list a few of the forecasts below as of September 21, 2020 and the list will be updated Events and Articles. Keep in mind these forecasts were written in October-November 2019, and published December 1, 2019, well before 2020 got underway.
ECONOMIC AND MARKET FORECASTS FOR 2020 (made prior to December 1, 2019)
The U.S. Stock Market and DJIA: "… the crest of this first 15.5-month cycle tops out before April, then declines into a low before October, then has another rally that tests or makes a new all-tike high in the second phase. As far as an upside target, two others at 29,663 +/- 938 and 33,293 +/- 2115 are developing. Additionally, with Jupiter in Capricorn, along with Saturn and Pluto, the path to higher highs is likely to be difficult than experienced in 2019 when Jupiter was in Sagittarius… The Jupiter/Saturn conjunction of December 21, 2020 argues for the high to be within five months of December 2020." The all-time in the DJIA occurred on February 12, 2020 at 29,568. It then dropped 38% into its low as of this writing on March 23. U.S. stocks then embarked upon another major rally, and as of this writing, the NASDAQ and S&P have made new all-time highs the first week of September, in an MMA 3—star critical reversal date time band.
Continue reading… Forecast 2020 Scorecard- As of September 21, 2020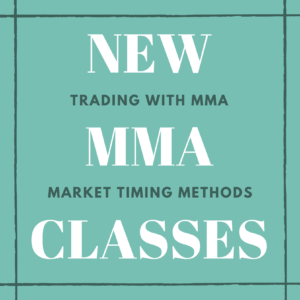 Trading with MMA Market Timing Methods: Recordings now available
Raymond Merriman will be hosting a three-part course on how to use the MMA Market Timing Methods and subscription reports starting in March. Trading with MMA Market Timing Methods is a three-part course over four weeks. Each two-hour class is designed for traders who want to learn more about trading futures as well as ETFs. The class size is limited to 30 students. All classes will be live and will be recorded so that the video recordings are available to the students for review. Read our interview with Raymond below to learn more about the class and how to sign up now!
Dates: March 11, March 25, April 1
Time: 7-9 pm EST
Instructor: Raymond Merriman
Platform: Hosted via Zoom
Cost: $295
Continue reading… Trading with MMA Market Timing Methods: Recordings now available!
This is a modified version of a presentation given at the ISAR 2014 conference, September 27, 2014, in Phoenix, AZ. If you wish to view and download a PDF of the chapter, with additional highlights and graphics, please click HERE.
America is in trouble.
It is in danger of losing its identity, and perhaps many of its treasured liberties, based on over 200 years of being the most exceptional experiment in democracy and capitalism the world has ever known.
Most Americans know this. Russia and China know this. In fact, the entire world is aware of the threat to America's identity and standing in the world, except perhaps the political leaders of America and many of their supporters, who apparently believe two contradictory narratives.
1. On one hand, the Administration states that America is not in decline or in danger, that it is strong and is still the greatest country in the world.
2. On the other hand, many supporters of President Obama, and possibly Obama himself, believe that the democracy and capitalism as practiced in the USA has not been an exceptional experiment at all in world history, but rather a failed practice that has been merely an excuse for the exploitation and oppression of others, both in America and abroad. For this viewpoint, Obama has apologized to the world for America's perceived sins.
Continue reading… AMERICA AT THE CROSSROADS: WILL IT PERISH, SURVIVE, OR TRANSFORM?