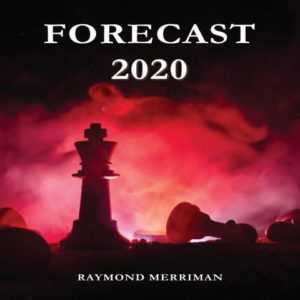 Although 2020 is not yet over, several forecasts made in the 2020 book have already unfolded. We will list a few of the forecasts below as of September 21, 2020 and the list will be updated Events and Articles. Keep in mind these forecasts were written in October-November 2019, and published December 1, 2019, well before 2020 got underway.
ECONOMIC AND MARKET FORECASTS FOR 2020 (made prior to December 1, 2019)
The U.S. Stock Market and DJIA: "… the crest of this first 15.5-month cycle tops out before April, then declines into a low before October, then has another rally that tests or makes a new all-tike high in the second phase. As far as an upside target, two others at 29,663 +/- 938 and 33,293 +/- 2115 are developing. Additionally, with Jupiter in Capricorn, along with Saturn and Pluto, the path to higher highs is likely to be difficult than experienced in 2019 when Jupiter was in Sagittarius… The Jupiter/Saturn conjunction of December 21, 2020 argues for the high to be within five months of December 2020." The all-time in the DJIA occurred on February 12, 2020 at 29,568. It then dropped 38% into its low as of this writing on March 23. U.S. stocks then embarked upon another major rally, and as of this writing, the NASDAQ and S&P have made new all-time highs the first week of September, in an MMA 3—star critical reversal date time band.
Continue reading… Forecast 2020 Scorecard- As of September 21, 2020