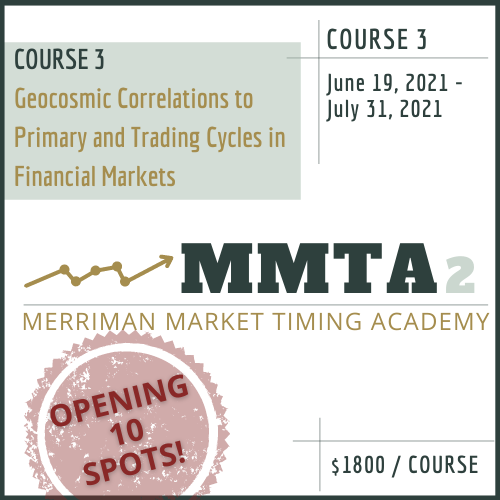 GEOCOSMIC CORRELATIONS TO PRIMARY AND TRADING CYCLES IN FINANCIAL MARKETS
A 7-WEEK INTENSIVE TRAINING COURSE LED BY RAYMOND MERRIMAN AND GIANNI DI POCE
JUNE 18 – JULY 31
This is the most important course on market timing for traders offered by MMA. We begin on June 18, 2021 and have opened 10 spots for this course only.
The MMA methodology of financial market timing utilizes several studies to determine an optimal time band for a major market reversal. But the one tool that provides that "extra edge" that all traders seek is Geocosmic Studies.
Continue reading… MMTA2 Course 3: Geocosmic Correlations to Primary and Trading Cycles in Financial Markets: June 19 – July 31
REVIEW AND PREVIEW
Global equity markets slid further on Thursday after the US Federal Reserve stopped short of promising changes to its massive bond-buying program… Investors were left uneasy even after the Fed on Wednesday signaled it would hold US interest rates at historic low levels until at least the end of 2023 – Adam Samson and Camilla Hodgson, "Global Equities Slip After Federal Reserve Comes Up Short on QE Plans," Financial Times, September 17, 2020.
Fighting against the Fed has not been a winning strategy since the pandemic market bottom in late March. But when the Fed announced last week that it will leave rates unchanged, around zero percent, through 2023, world equity markets did not cheer. Has the Fed run out of weapons to stimulate the stock market, especially heading into the U.S. Election? Or is this just Mars retrograde in its ruling sign of Aries doing what it normally does when it goes retrograde in its ruling sign, which is to shift from robust aggression and confidence to fears of undesirable consequences from having been too aggressive and confident. Under Mars retrograde, the aggressor is usually the loser. It's going to remain that way with the heavens until November 13. Don't start something if you have doubts it will succeed.
Continue reading… MMA Free Weekly Forecast: September 21, 2020
REVIEW AND PREVIEW
Now, however, analysts expect more stimulus before the end of the year. "If inflation remains very low, the ECB may decide in December to extend its crisis-response asset purchase program," Florian Hense, eurozone economist said. – Silvia Amara, "Shocker Eurozone Data Raises Question About What the ECB Will Do Next," www.cnbc.com, September 1, 2020.
The race may soon be back on to see who can provide the cheapest world currency, as getting inflation to rise remains an elusive goal. No one wants deflation, and even with interest rates hovering around zero, inflation also continues to remain below the goal of 2%. Now, this is becoming a growing concern for world equity markets, which have started a noticeable decline over the past week. This decline fits well with our market timing studies, as several world indices made new cycle highs within two days of our geocosmic critical reversal date on September 4.
Continue reading… MMA Free Weekly Forecast: September 14, 2020
There will be no market column issued this week. Monday will be the Labor Day holiday in the U.S. and markets will be closed on September 7. Instead, we are going to reprint a full chapter from the Forecast 2020 Book, a timely piece since I am beginning to write the Forecast 2021 Book. This chapter was written in November 2019. See below for the chapter, "JUPITER CONJUNCT PLUTO: EXTREME MEASURES" where I have added in my current thoughts in red. The year 2020 certainly has been a year of "Extreme Measures." This chapter will give you an idea of what to expect in next year's book, coming out in December 2020. Enjoy this chapter from Forecast 2020 along with my commentary!
JUPITER CONJUNCT PLUTO: EXTREME MEASURES
Today, the Republicans are the fiscally irresponsible party and the Democrats the fiscally insane party. – Mona Charen, "Deficit is the Great Missing Topic," Arizona Republic, November 11, 2019.
The final piece of the Capricorn Stellium involves the 13-year synodic cycle of Jupiter and Pluto. This will be a three-passage series of conjunctions taking place on April 4, June 30, and November 12, 2020.
PLEASE NOTE: There will be no market column issued next week. The following Monday will be the Labor Day holiday in the U.S. and markets will be closed on September 7.
REVIEW AND PREVIEW
I made it to Germany today. It was an easy but long trip as direct routes are hard to come by now. As Jupiter (international travel) will depart from Capricorn (restrictions and travel bans) around the winter solstice, readers may want to look at airlines and travel-related companies for possible investments on any normal corrective decline. But as you see in this week's column, "normal" corrective declines have been the exception rather than the rule in stocks this year.
Global stock markets were generally favorable last week, with many making new post-crash highs again. The NASDAQ and the S&P both made new all-time highs. The Dow Jones Industrial Average, German DAX, and India's NIFTY indices are not far behind. Japan, however, had a setback as Prime Minister Abe announced his resignation due to health concerns on Friday, and the Nikkei tumbled.
In other markets, Crude Oil soared to a new post-crash high and Gold is once again testing 2000 as the U.D. Dollar is again testing its lowest level in over two years.
REVIEW AND PREVIEW
Our economy, they (Democrats and Republicans) say is broken… that the wealth gains of recent years have gone entirely to the top 1% of earners, that real wages for the middle class have stagnated and the "game is rigged."(But) in a study published by the Brookings Institution, Stephen Rose found that the number of Americans in the upper-middle class increased from 6% in 1967 to 33% in 2016… Michael Strain's new book "The American Dream is Not Dead" (shows) that inequality has decreased by 7% between 2007 and 2016… The populists of right and left have agreed on something that just isn't so. The death of the American Dream has been vastly exaggerated. – Mona Charen, senior fellow at the Ethics and Public Policy Center, "The American Dream is Not Dead," Arizona Republic, August 21, 2020.
By refusing to normalize monetary policy after the financial panic ended, (the Fed) inflated asset bubbles on stock exchanges, in corporate debt markets, urban property markets, and other parts of the world. These booms benefitted mainly asset owners at the expense of wage earners and entrepreneurs. The result was a damaging form of inequality, new in America, that rewarded asset ownership or political connections instead of innovation and hard work. This helped Donald Trump make the case that the Obama expansion had left behind working people. – "The Obama-Biden Economy Redux," Wall Street Journal Opinion Page, August 21, 2020.
REVIEW AND PREVIEW
U.S. equity markets ended the (Friday) session flat in what was a quiet summer Friday trading session after lawmakers went on break without agreeing on a coronavirus relief package and retail sales softened. – Jonathan Garber, "Stocks Finish Little Changed as COVID Relief Hangs in Limbo," https://www.foxbusiness.com, August 14, 2020.
If you looked at the end of the week in Asian equities, you may have the impression that Uranus turning retrograde this weekend is leading to an upside breakout. The Nikki and NIFTY indices are breaking out to a new post-crash high.
REVIEW AND PREVIEW
The Labor Department said in its Friday report that employers added 1.8 million jobs last month, sending the unemployment rate down for the third straight month to 10.2%, topping Wall Street's expectations. The report marked the third consecutive month of job growth in the millions, indicating a slow — but steady — improvement. Still, the economy has so far added back less than half — about 42 percent — of the 22 million jobs it lost during the pandemic, data shows. There are still 10.6 million more out-of-work Americans than in February. – Megan Henney, "July Marked the Third Consecutive Month of Job Growth in the Millions," www.foxbusiness.com, August 7, 2020.
The polls show the economy is the one issue on which a majority trusts Mr. Trump more than it does Joe Biden. But if he signs another Nancy Pelosi special, voters can be forgiven if they wonder what the economic policy difference is between Republicans and Democrats. – "Trump's Trillion-Dollar Choice," Opinion Page, Wall Street Journal editors, August 7, 2020.
REVIEW AND PREVIEW
The government reported Thursday that U.S. economy shrank at a dizzying 32.9% annual rate in the April-June quarter, by far the worst quarterly plunge ever, as the coronavirus outbreak shut down businesses, threw tens of millions out of work and sent unemployment surging to 14.7%. – The Associated Press, "Trump Floats Election 'Delay' Amid Claims of Voting Fraud," www.foxbusiness.com, July 30, 2020.
Yes, some pollsters were off four years ago, but that merely confirms that polls (and pundits) are fallible, not that they are always wrong and should be ignored. Jason L. Riley, "It's Getting Late Early for the Trump Re-Election Effort," Wall Street Journal, July 30, 2020.